Marketing Automation requires effort and for some, it's well worth it!
Marketing Automation (MA) works amazingly well when careful planning and diligence are behind it. But caution: you cannot throw money at a third party professional, sit back and expect MA to generate qualified leads. Building an effective marketing automation platform requires an investment in staff time as well as funding to implement the campaigns.
The work is required on two fronts: data management and content development. Unless you invest the time and tedium necessary to capture, build and manage customer data, all the best technology won't help you. You also need to focus on the quality of your content and calls to action: writing, design, photography, video… PRODUCTION! That cost is always there because you need strong, relevant messages to compete in the digital marketplace.
So, if you have to put so much into it, does Marketing Automation really offer a lot of value in return? Yes, especially if you use it as designed: a tool for "smart" and efficient content distribution.  The automation part kicks in to help boost campaign results by distributing content based on known audience preferences – all stemming from their actual behavior. But first, you need to pull people to your content; get them to navigate your website and take action on your landing pages.
Marketing Automation "turbocharges" well-produced content.
You can set up the most powerful and sophisticated MA system available but if you write and produce gobbledygook content with lousy graphics, your visitors will shrug and move on. If your landing pages don't convert, MA is a complete waste of your time, resources and money.  Without conversions, i.e. qualified inbound leads with authentic inquiries or direct online sales, you may as well just start randomly cold calling prospects. You'll probably sell more that way!
Getting anyone to take action requires that you persuade them through a series of emotional and logical appeals. When you apply the AIDA method of persuasion, you'll have an ideal guide for writing your messages. It helps convince your prospects to decide that your solution is right for them. So what exactly is AIDA?
AIDA simply stands for Attention, Interest, Desire and Action. There you have the universal progression of thought processes leading to a decision to act. Breaking it down further…
Attention:  How do you grab someone's attention? Call them by name if you can or else "shout" something valuable to their known persona. This can be a perfectly relevant subject line, headline or maybe a 3-second audio/video clip.
Interest:  Once you have their attention, signal that your information is relevant to them. Apply it directly to their needs and aspirations.
Desire:  What's really valuable to your target audience? What's in it for them? How will your solution make life and business better? Tell a compelling story. Paint a picture of success or pleasure with words and images.
Action:  The only thing that really matters in your campaigns is, do your visitors and prospects take the desired action in response to the messages? Do they ultimately purchase? Show them clearly what to do. Offer personal assistance or an incentive to sign up, make the appointment or buy!
Keep marketing technology "right-sized" for your business.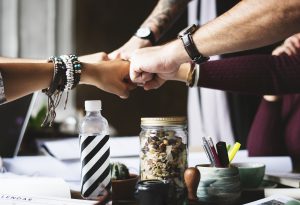 It's easy to lose sight of marketing fundamentals with so much emphasis on new tactical technologies. For many small and even some medium enterprise businesses, an effective marketing program can be accomplished with a website, an active blog, an email marketing platform and 2 or 3 social media pages. If using a CRM, it's crucial to promptly feed the database (manually if needed) with inbound web leads emailed to a salesperson and/or saved in the forms capture database. Then your sales team can better fulfill their roles to advance relationships, follow up and close more deals.
While I'm wide open to changing my views with evidence, it's currently my opinion that Marketing Automation is a tool best suited for large organizations with multi-faceted products and multiple target audiences. Most small businesses probably don't need it, at least not yet. Forms code from many low-cost Email Service Providers can be embedded on landing pages and generate auto-responder emails with drip campaigns.
The automatic segmentation of leads and ad retargeting based on site visitors' behavior can be very powerful for large sales organizations and professional service firms. To remain competitive today, most big companies need the qualifying, segmenting and lead funneling capabilities of a robust CRM integrated with a Marketing Automation platform. Think Salesforce & Pardot or Pipedrive & Sharpspring.
Whatever you do to modernize your marketing efforts with technology, remember that, to cite my friend and former colleague Gary O'Neil, "You cannot move people unless you touch them."