Subscribe to my bi-weekly newsletter by clicking here
By Chuck Sink
The order arrives at your office and you're excited to open the package and start using the product. Upon inspecting the goods, you notice something isn't quite right. Your smile morphs to poker face. You remove the product and test it for its intended purpose and it doesn't work right – it's defective. Poker face becomes frown. You could probably get by using it but that would be a disservice to your coworkers, your customers and yourself. Output would be below your high standards. Now you need this product to operate business so what do you do? Only one thing: Return it to the manufacturer for repair or replacement. You may even have to forego production until the replacement arrives. You can only buy direct from this one manufacturer because it's a proprietary technology.
Let's say instead of an inanimate component or machine, the defective product is a person. You're in a service business and you rely on employment agencies to provide specialized skilled personnel on a regular basis. When a placed individual proves to be incompetent to perform his function, you must send him back for retraining or demand a replacement worker.
Now let's say the defective product or human resource is you. You have a chronic problem or habits that keep you from performing your best but you think by simply pressing on, the related issues will diminish or go away. You may even have some good days among the mediocre and lousy performances. On those days you tell yourself, "I've turned the corner and have this thing licked." Then you fall short again and start to blame other people and circumstances for your lack of performance; your inability to grow. You believe your own rationalizations about the people around you. If only they could change or be replaced by people more like you, all would be fine. Then a trusted friend hits you over the head with a two-by-four. "You really need to get some help with…!"
Stunned by the truth you begin to accept that you're not the chief activator and director of the universe. You didn't create yourself nor can you alone fix yourself. A tragic lie of many "self help" programs is that you alone are in command of your destiny. Taking control of your thoughts and redirecting them toward definite purpose, actions and habits will eliminate your problems and lead you finally to the riches you deserve. What a bunch of bull!
We all have defects that affect work and business. I have a few major ones. They don't go away but they can be managed and mitigated. It's exhilarating when I squash them and overlay them with disciplined achievement in their spite. For me the only solution is to return daily in prayer and meditation to my Creator, God as I call him.
Business is spiritual too.
How common is the illusion that we can separate our spiritual or faith life from our daily work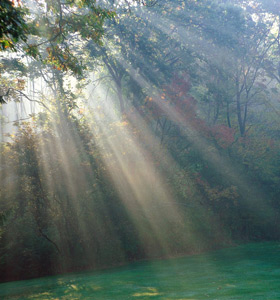 activities and business? I'm fooled by the illusion all the time. It's easy to think only of the tangible things when we're busy trying to accomplish a task. However, when I'm networking for business, I'm highly energized by just watching and listening to the fine people in the room. When I have a prolonged conversation with an associate, the discussion almost inevitably begins to elevate toward human relations and what life is all about. That's spiritual.
You have a free will and intellect but to direct and harness these liberties to best service, they need to be aligned with the natural laws of creation established by God. He is the manufacturer of the universe and all life in it. Agnostics question this and atheists will reject the notion entirely. I say to those folks, please keep an open mind and try to define exactly what love is.
If you know you can do better in your work and business, get brutally honest with yourself and embrace the truth about your inner problems. Think about returning yourself to your Manufacturer. He wants you to work at your highest achievement levels in whatever skill set He gave you. He wants your boss, coworkers and clients to be well served and delighted with your work. You were born – created to serve others while alive on earth.
We all know people who need help with personal and business problems and you've probably witnessed some amazing turnarounds in people and even whole companies. They are like newly conditioned people and organizations. New policies and improved tactics begin the moment new attitudes are embraced. People don't willingly change direction without first a change of heart.
Once you identify your own deeply imbedded issues, to your relief you'll soon discover there are many people out there experiencing the same chronic issues as you, many of whom uncovered a way to deal with it. They found a spiritual solution manifest in the help they receive from trusted people and volumes of literature written to help deal with their issues. That's how I believe our Manufacturer takes back us defective products and performs the requested repairs. The trick is to humbly ask for guidance and help. Your Creator will gladly take you back and help you here in His temporary workshop. Personally, I hope someday to be granted keys to the whole factory.